Every week Bay Area animal shelters get in beautiful, smart, snow white King Pigeons that are bred for meat (squab). Most arrive as babies, only four weeks old (slaughter age). King Pigeons are domestic, not wild, and cannot be released. They are bred to be big for maximum meat and white-feathered so their skin will be pink. Squab, considered a delicacy, is served in French, Italian, American Haute and Asian cuisines. Squab sold at live poultry markets sometimes end up in animal shelters.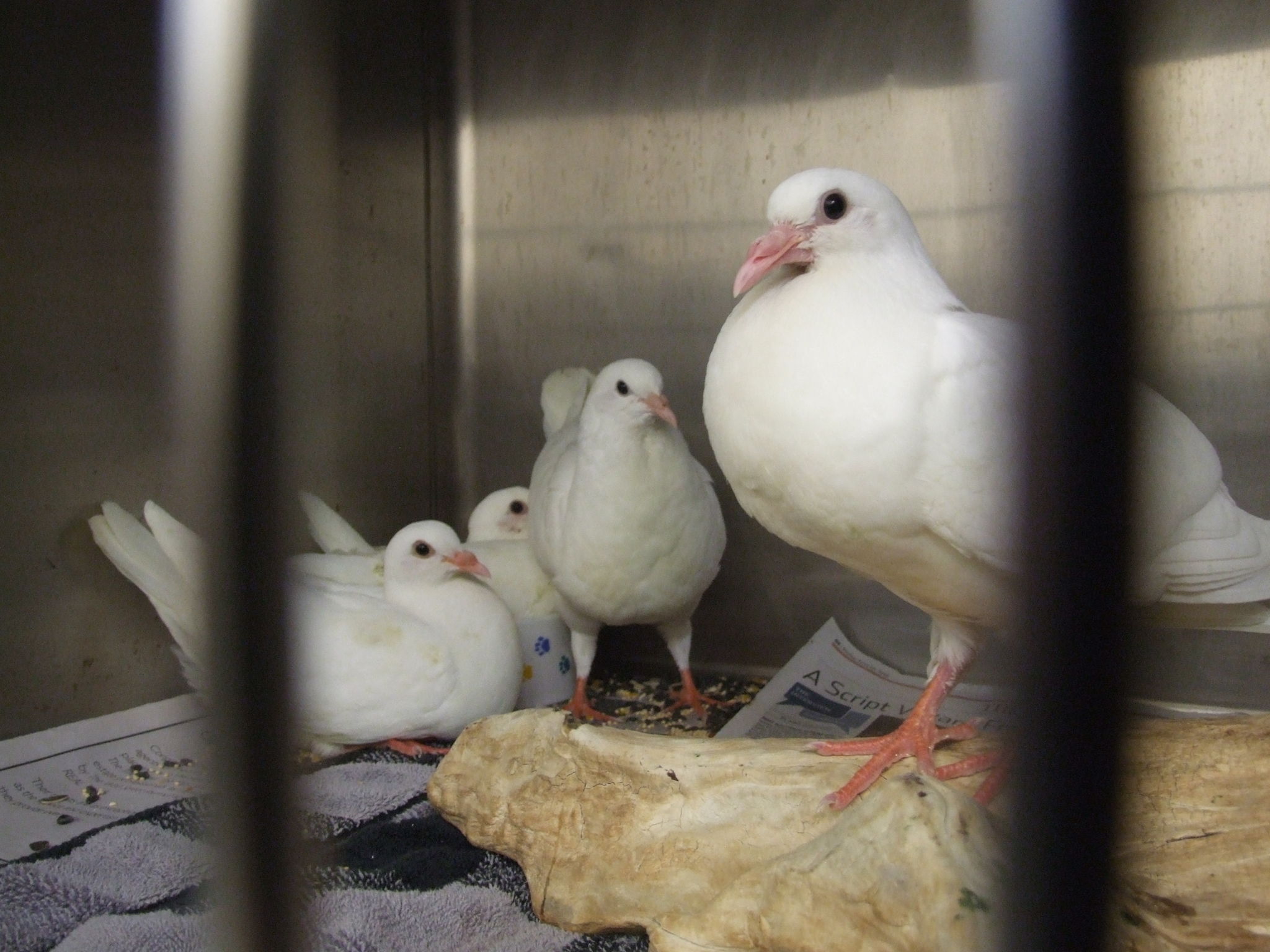 Rescued King Pigeons "released" at a funeral were lucky to get taken to a shelter
Some are purchased and "set free" by misguided people and others are ceremoniously "released". King Pigeons have no survival skills and they are quickly killed by hawks, dogs, cats and even people. The lucky few that survive long enough to get to a shelter have beat astronomical odds- evading the butcher, surviving predators- but are still at risk of being killed if they are not adopted.
Soho & Butters- four week old King Pigeons rescued from the streets of SF
Palomacy Pigeon & Dove Adoptions is changing that. Inspired by these birds, we created a rescue and have saved more than 600 lives so far. With the help of Animal Place's Rescue Ranch, we can save even more!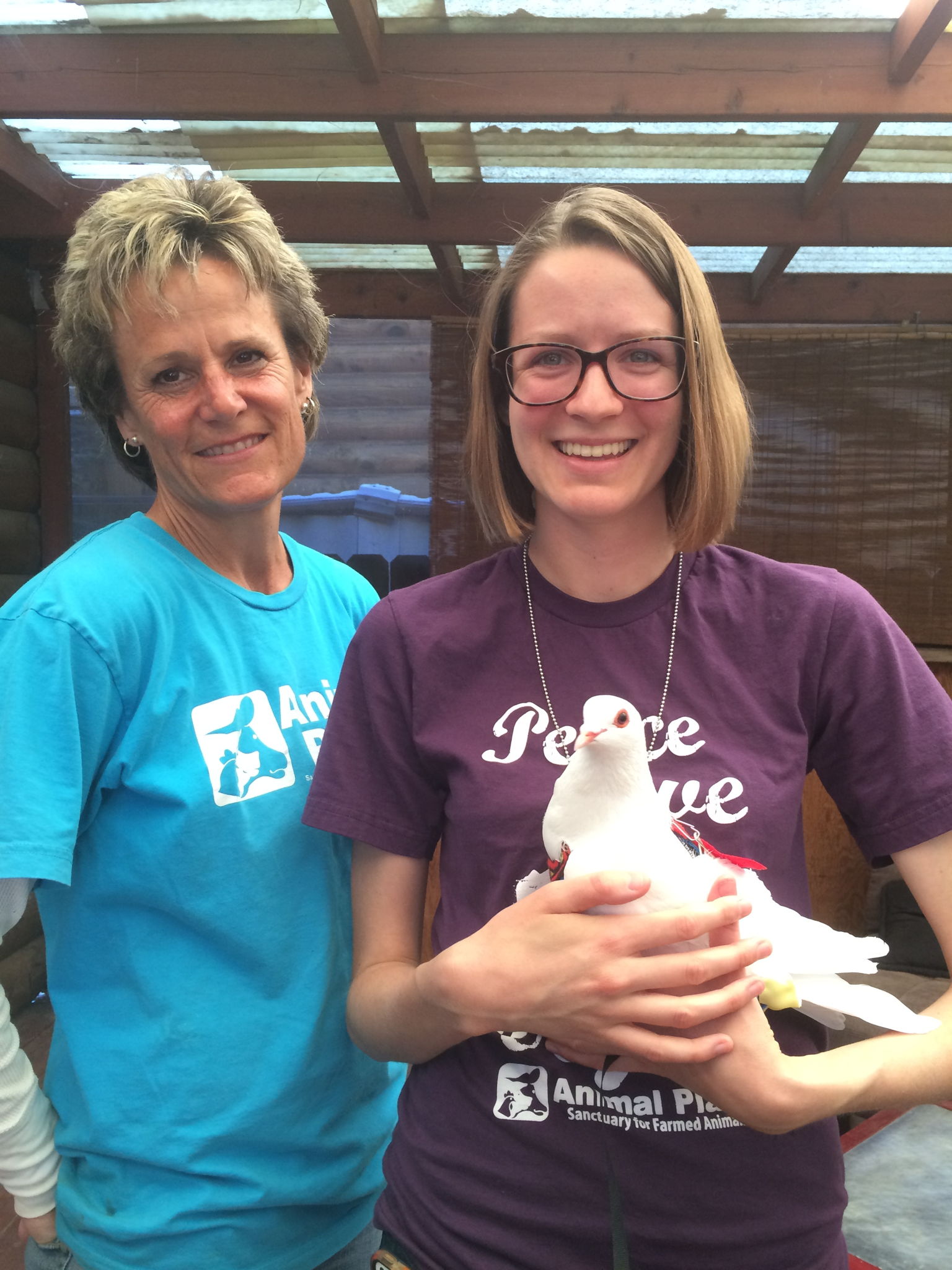 Rescue Ranch staff Jan & Elizabeth with Dylan
In order to help King Pigeons, Animal Place needs a predator and rodent-proof aviary built to house the birds awaiting adoption. Your donation will help us build a safe and comfortable 15' x 9' x 6' aviary at Animal Place's Rescue Ranch in Vacaville on Saturday August 22, 2015! Our unique partnership will enable the farmed animal experts of Animal Place to shine a light on the plight and potential of King Pigeons being bred and butchered for squab at only four weeks old.
Animal Place wants to help increase compassion and reduce demand for squab and we need your help to make it happen!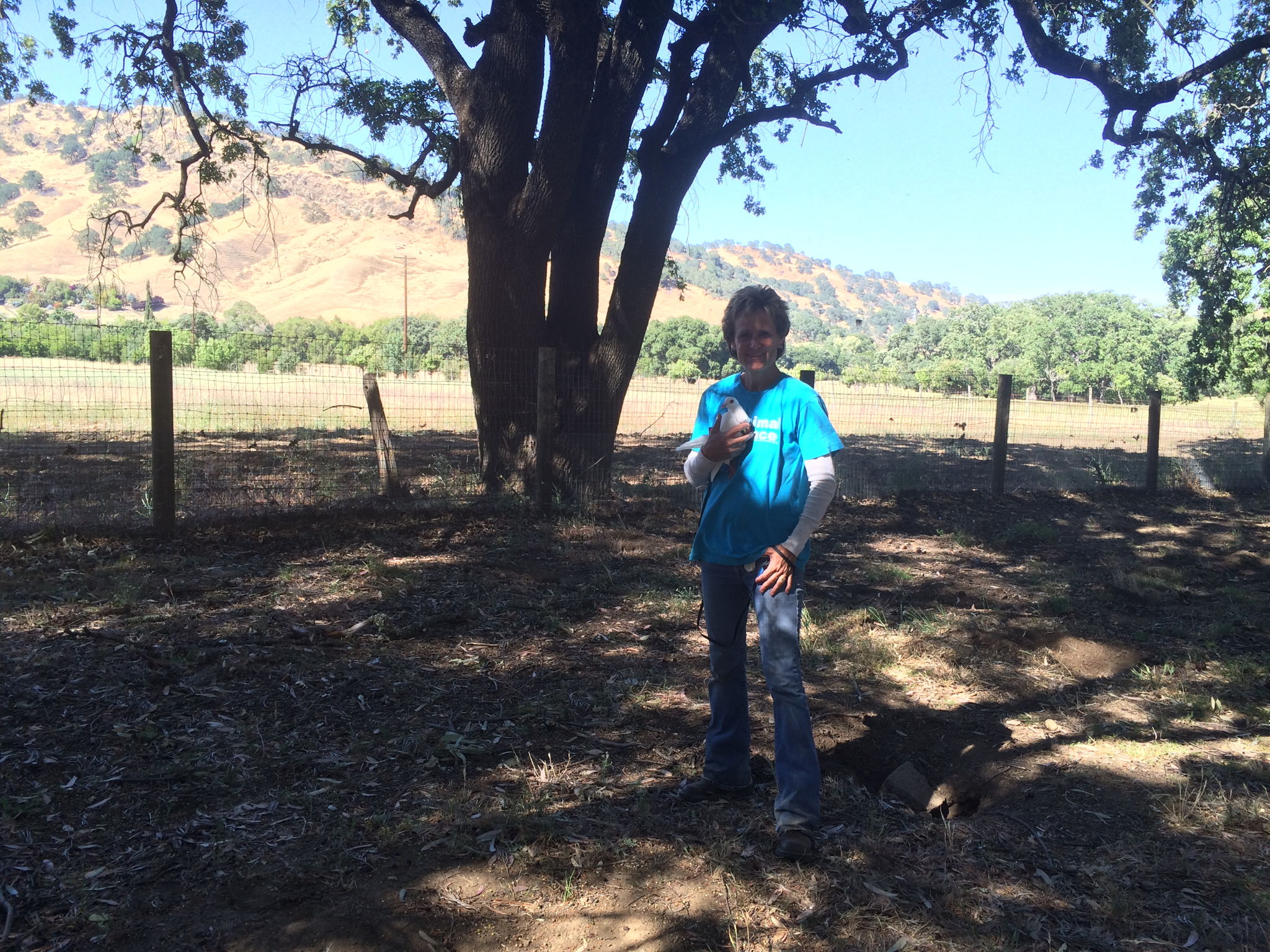 Jan & Dylan at the future site of Rescue Ranch's King Pigeon aviary
Thank you for helping these innocent, smart, gentle birds. Your compassion makes a life and death difference.
More about rescued King Pigeons
Volunteer to help assemble the aviary in Vacaville 8/22
If you'd prefer to send a check, please make it out to:
"CI- Palomacy AP Project"
and mail to 354 Pine Street #700 SF CA 94104
DONATE
$2,999
RAISED
$2,800
GOAL
| | | |
| --- | --- | --- |
| | | |
| This Campaign | 25 | 107% |
| has ended. | Believers | Funded |
This campaign has ended.