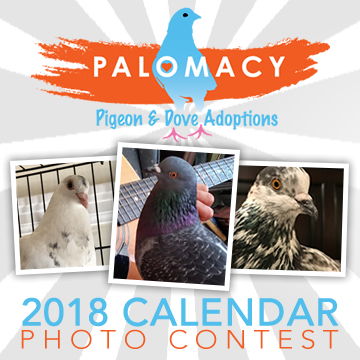 Palomacy people work together every day of the year to help birds in need. Together, we have helped wild birds get the rehab care they need to reclaim their free lives and saved the lives of hundreds of domestic and unreleasable birds with coaching and referrals, foster care, vet treatment and adoption into wonderful forever homes. With your support, we look forward to helping even more in the coming year.
Our gorgeous, full color calendars, showcasing beautiful photos of amazing birds and their inspiring rescue stories, will warm your heart all year long.
Right now, while supplies last, we will thank you for your donation to Palomacy of $16 with one gorgeous calendar! For a donation of $32, we'll send two, for a donation of $48, we'll send three and for your gift of $70, we'll send five (all to one address, US shipping included, international shipping extra).
THANK YOU FOR HELPING US TO HELP BIRDS & THE PEOPLE WHO LOVE THEM EVERY DAY OF THE YEAR!